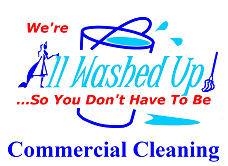 Green Cleaning is not just a fad but is here to stay. Green cleaning is a better way to clean that protects human health while at the same time minimizing our impact on the environment. This type of cleaning is recommended and practiced by All Washed Up Cleaning and includes not only the use of zero or low toxicity cleaning solutions but also incorporating processes that promote health and socially conscious behavior like recycling. Green cleaning focuses on improving indoor air quality by minimizing allergens and contaminates like mold, bacteria, and harsh chemicals. It is a result of increased understanding of the impact on the environment from the extraction of raw materials to manufacture janitorial chemicals, supplies, and equipment along with the transportation and disposal of these items.
All Washed Up Commercial Cleaning trains its staff on how to clean for the least impact on human health. For instance, laboratory studies reveal that a small amount of cleaning solution when applied to a clean and damp microfiber cloth works even better than spraying the product on the surface to be cleaned with a conventional cotton terry cloth towel while reducing the impact on the air quality. Another example is how we train our cleaning staff to use proper amount of cleaning solution concentrate and mix our own using the same spray bottle 10-20 times before replacing with a new bottle. This reduces waste in our landfills and recycling. Microfiber is both more efficient to clean and dry when laundered and lasts much longer than terry cloths.
Here are a few statistics to consider too. The average American spends 80% of their time each day indoors and the EPA ranks indoor air quality as one of the top 5 risks in the US. A recent study estimated that the value of increased productivity and reduced absenteeism among office workers from better cleaning methods could be as high as $160 billion nationwide. We are happy to answer any questions you may have about green cleaning and will work with you on providing a healthier work environment for your employees, tenants and visitors.
For more information about Green Office Cleaning and it's benefits in Winston Salem, call (336) 682-6983
Five things to know before inviting a contractor into your business!