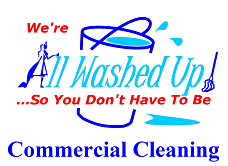 What you know is surely important, but maybe more critical is how soon you know it. Knowing that bad weather is coming is much better than knowing that it came and went.
In our ongoing effort to bring value to the quality services we provide YOU, our loyal customers, All Washed Up Janitorial Cleaning is proud to announce that we have partnered with Swept. Before writing software, they were a cleaning company made successful because of the software they were designing to help track and communicate with their cleaners. They believe that mobile technology is accessible by almost everyone and is under leveraged by most in the cleaning industry. Using their hosted web-based service managers at All Washed Up Cleaning are tracking and reporting our cleaning staff's time and attendance. The importance of access to LIVE data is best described in the following example...
A supervisor reviews handwritten time sheets and notices shift times at job sites that causes concern. He knows that a good clean time for a particular customer is 2 hours a night, yet the clock in, clock out times shows work done in a little over an hour for several nights the week before. There was no way the quality of the work was good, but that was a week ago. Now with an online timekeeping system, he identifies these events live as they happen. He monitors clock in, clock outs on his mobile app, and if he notices something odd like a quick cleaning, he will immediately call the employee to inquire.
What's more, text alerts are sent to supervisors for late-arrival or no-shows for timely and proactive resolution before the next day arrives. Computed hours flow into payroll and invoicing for accurately tracking labor costs while reducing human error.
These features and more are critical to All Washed Up Cleaning continuing to provide the very best in quality services for your facility. Just as a doctor relies on his finger to the PULSE to quickly diagnose a patient's health, information is often only as good as the speed in which it's delivered.
For more information on how we at All Washed Up deliver quality janitorial cleaning in Winston Salem, NC, contact us at (336) 682-6983.
Five things to know Before inviting a contractor into your business!